Arles Visitor Center

View Larger Map

The visitor's center in Arles provides a walking tour map of ten reproductions on easels depicting actual places throughout Arles including: Starry Night Over the Rhone and Café Terrace on the Place du Forum, Arles, at Night.

My thanks to http://www.vangoghgallery.com for the photos and commentary. Do visit their website!
Arles Hospital

This is the hospital where Van Gogh was taken after he cut off a portion of his ear. He also painted the interior courtyard of this former hospital.

This image shows the courtyard of the Hospital at Arles as it is today and as Vincent painted it in 1889. – Photo by Rudi Schols
Arles Bridge

This photo shows the painting Vincent completed in Oct 1888 and the view today. (that's Rudi on the steps of the bridge which is in Arles) – Photo by Rudi Schols

Monastère St. Paul-de-Mausole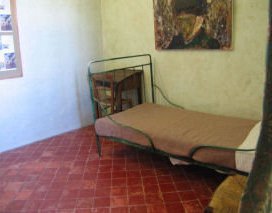 This is the hospital where Van Gogh stayed in 1889 and painted its gardens in The Garden of Saint-Paul Hospital.
St Remy Asylum Room - Van Gogh

This is where Vincent convalesced for a year at the asylum of St. Paul de Mausole near St Remy. – Photo by Rudi Schols